James McCarthy: Decision Time
4 December 2014
7,114 views
No Comment
Written by Michael
The media have been buzzing in recent days with word that Arsenal and Manchester United are showing interest in Ireland star James McCarthy. It is well over 8 years since McCarthy broke onto the scene as a fresh faced 15 year old at Hamilton Academical. His next decision may very well be the most important of his career.
Everton manager Roberto Martinez is quite dismissive of these rumours, highlighting the fact that McCarthy signed a long term contract a little over a year ago. The Spaniard stated, "I always enjoy seeing good reports on our players, and I see the potential interest or the good compliments that can be paid towards James from the outside. But he is a player we look forward to seeing in the Everton top for a long, long time."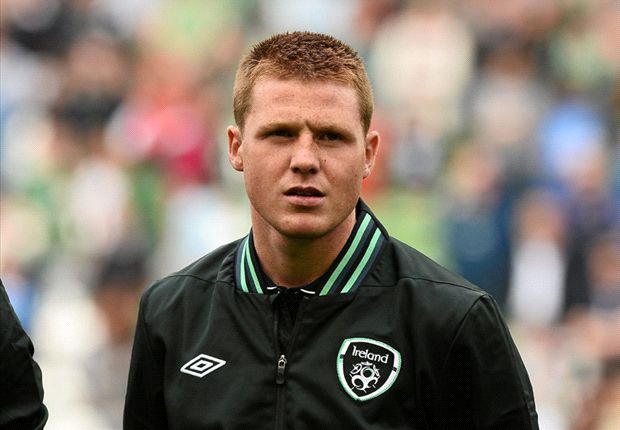 So what is best for McCarthy's career at this important junction?  His presence has become vital in the Everton midfield. This was highlighted when he missed the recent defeat to Spurs from injury. With Gareth Barry, he has formed a formidable central partnership in a team that are going in the right direction, with a progressive manager. With a pass rate of just under 90% in the Premier League(in the high 90's in the Europa League), McCarthy has looked very assured. Another advantage of staying with Everton is the close relationship he has with Martinez. It was Martinez who brought the raw 18 year old to England and helped progress his game at Wigan. It is unquestioned that McCarthy has a lot of loyalty to Martinez. Martinez has helped greatly to mould McCarthy into a reliable defensive midfielder who is very comfortable on the ball. His defensive reliability has been growing year on year. One of McCarthy's most impressive games this season was in Evertons' 3-0 home victory against Lille in the Europa League. McCarthys heat map and passing map prove how controlled he has become in DM position
Arsenal have for many years been lacking a defensive midfielder in the mould of McCarthy, the perennially injured Abou Diaby being the closest they have. It is questionable whether Arteta is a reliable option going into the future and also questions marks over the defensive qualities of both Aaron Ramsey and Jack Wilshere.  The lure of almost assured Champions League football and the quality of players at the Emirates may very well make a move there appear attractive for McCarthy. A poll carried out for the Daily Mirror found that 73% of Arsenal fans believe that McCarthy is good enough to fit into their team.
The links with Manchester United seem less plausible. During the summer, perhaps, but at this moment in time with a rejuvenated Fellani, £28 million Herrera and Michael Carrick, defensive midfielders are far from the top of Van Gaal's shopping list.
McCarthy himself has always stated he is happy with Everton. Speaking in August when being linked with Manchester United and Spurs, he stated, "I'm enjoying life here. I feel part of the family. It's a real family club and it's great to be involved in. It's been a year since I came but it feels a lot longer than that."
While not reaching the performance heights that some expected of him in the green shirt, McCarthy has diligently done what has been asked of him. In Glasgow last month, Ireland were simply over run in midfield. Scotland enjoyed much success with Naismith dropping deep to find pockets of space. Generally McCarthy would be occupying that position but due to injury Scotland were able to exploit the inexperience of  Hendrick and the not fully fit Darron Gibson. Since the start of qualifying for the 2012 World Cup, Ireland have a win percentage of 40% with McCarthy in the side. Without McCarthy in the side this drops to 25%.
Related posts: